Reporting the story of Raoul Moat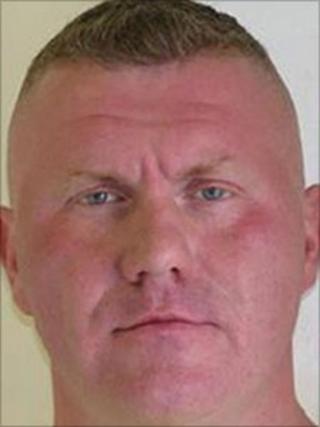 It was just after 19:30 BST on 9 July 2010.
I was at the end of Rothbury High Street when two police cars collided with each other. They were in a rush, but with dozens and dozens of possible "sightings" we'd quickly learned that this was not unusual.
Suddenly, a senior police officer sprang out from an armoured vehicle and told us to go inside.
I asked him if it was because of the crash, or because of "something else". His face was ashen. He put up his hands and said: "Please, just go inside, now."
That was the start of a six-hour stand off with Britain's most wanted man, Raoul Moat.
Within seconds a cordon was set up. I watched as officers with protective clothing moved down towards the riverbank. They were carrying X12 Tasers.
These "less lethal weapons" are prohibited, and the Gold Commander in charge that night knew it.
'Cleansing his soul'
Northumbria Police Assistant Chief Constable Steve Ashman also knew that deploying them was against the guidelines set by the Association of Chief Police Officers (Acpo).
But the inquest has shown that "guidance" means just that. In Mr Ashman's mind, the European Convention of Human Rights took precedent. He had to respect Moat's right to life and in doing so, bring him to justice.
Preventing Moat from taking his own life was also the responsibility of the negotiators.
While nervous residents bombarded the police with questions at the cordon, more measured talks were taking place with Moat just metres away.
"Come in and have a hot shower and a cup of tea", the negotiator said. He was known as A3 at the inquest and gave evidence from behind a screen.
The gunman told police where he'd hidden another shotgun and asked about the welfare of PC David Rathband.
"I believe he was cleansing his soul," the negotiator said.
Moat then moved the gun from his chin to his temple and started to take deep breaths.
Nurse injured
I had just arrived home when I heard a Rothbury resident tell BBC Radio 5 live that Moat had shot himself.
In the 10 minutes it took for me to reach Newcastle General Hospital, the entrance to Accident and Emergency had already been cordoned off.
Escorted by police cars, the ambulance drove in at high speed.
The inquest heard that the nurse inside it had been injured by needles from the Taser cartridge still hanging from Moat's clothing - medical staff had never had seen anything like it before.
Once inside, they tried to resuscitate him, but after 15 minutes Moat was pronounced dead.
One of the negotiators told the inquest: "I was devastated. Nobody deserves to lose a life" - and Moat's life was far from normal.
The inquest heard that his mother had a serious mental illness. When he was a child, she set fire to his toys and gave him her anti-psychotic medicine.
He had attempted suicide, had been prescribed anti-depressants and was once stabbed by a former girlfriend.
'Broken man'
Police found a noose in his attic and his letters and recordings talked about "not feeling well" or "wanting help".
When he knelt on the riverbank that night in the dark, in the pouring rain and with his gun at his head, a senior policeman told the inquest: "I felt sorry for him. He was a broken man."
Yet Moat was a murderer. Just days after he was released from Durham Prison for assault, he shot dead Chris Brown, his ex-partner's boyfriend, in a jealous rage.
But prison staff knew that Moat had made threats and passed the information on to the police.
Moat will never face trial for the crimes he committed last year, but could that prison intelligence have prevented them?
That's another question for the Independent Police Complaints Commission and another wait for the families involved.