Raoul Moat inquest: Jury retires to consider verdict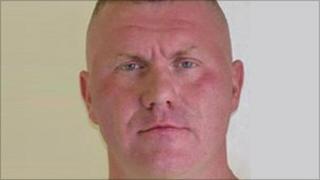 The jury in the Raoul Moat inquest has retired to consider its verdict.
The three-week hearing was told that Moat was hit by a shotgun Taser round fired by marksmen who believed he was preparing to kill himself.
It was the first time firearms officers had seen the experimental X12 Taser shotguns, which were only licensed for testing in the UK.
Newcastle Coroner David Mitford said one area to consider was whether police should have used them on the night.
Moat died following a six-hour stand-off with armed officers in Rothbury, Northumberland.
The 37-year-old former doorman had been on the run for a week after shooting his ex-partner Samantha Stobbart, murdering her new boyfriend Chris Brown and later blinding PC David Rathband.
Referring to the use of the X12 Taser, Newcastle Coroner David Mitford said to the jury: "I invite you to make a decision on whether that was appropriate."
He directed the panel of five men and five women to be "satisfied so you are sure" before returning a verdict of suicide.
However, other verdicts could be decided "on the balance of probabilities".