Unlicensed Tasers were right solution, claims expert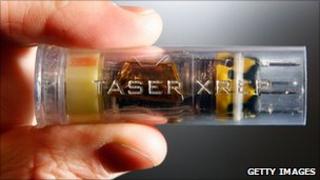 The unlicensed X12 Taser used by police on the night Raoul Moat died was the right thing for the situation, according to a weapons expert.
Moat shot himself in the head after a six-hour stand-off with police in Rothbury, Northumberland in July 2010.
The 37-year-old was hit by marksmen using an experimental shotgun Taser, the A12 Taser which fired XREP cartridges.
Firearms expert David Dyson said: "They were right to use it."
Much has been made of the fact police officers were using Taser guns not authorised by the Home Office and which were only licensed for testing in the UK.
The company which supplied them to Northumbria Police had its licence revoked following the incident.
'Unreliable and inaccurate'
David Dyson, a barrister with more than 25 years in the fields of gun law, firearms law and weapons law, said: "In close proximity with Moat, who had a shotgun, the police had to keep their officers out of danger.
"They had two options, the conventional Taser, which would have brought them too close to him, or a firearm.
"Do you really want them to use lethal force?"
The more conventional Taser, the X26, can be fired from a range of about 22 ft (6m) while the XREP cartridge can be fired from 100 ft (30m).
Mr Dyson added: "I can understand why they wanted to use the XREP, they had to try to resolve the situation without killing Moat, so he can face justice and protect the officers.
"In that scenario there is nothing wrong with it."
Inquest jurors returning a verdict of suicide on Tuesday had been asked to consider whether the use of Tasers was appropriate.
Amnesty International wrote to the coroner ahead of the inquest to voice concern over the use of the XREP on Moat.
UK Arms Programme Director Oliver Sprague said: "We're seriously concerned about this latest weapon, this is effectively a shotgun that fires electric-shock bullets."
He claimed that Home Office testing had found it to be "highly unreliable and inaccurate".
He added: "The XREP should not be used until it has passed the robust and strict Home Office testing procedures and the officers are adequately trained on how to handle this weapon."
An Independent Police Complaints Commission report found no evidence of misconduct by officers.
The IPCC looked at the period from the sighting of Moat until his death, including strategy and tactics and the deployment of Tasers.
However it concluded there may be "some learning" for Northumbria Police from the investigation but there was no evidence of misconduct by any of its officers.
On that night in July it was the first time firearms officers had seen the weapons.
Northumbria Police Chief Constable Sue Sim said Tasers were used because there were no other options available to police to try to stop Moat from taking his own life.
Moat had been on the run for a week after shooting his ex-partner Samantha Stobbart, murdering her new boyfriend Chris Brown and later blinding PC David Rathband.