Regeneration company 1NG scrapped by Tyneside councils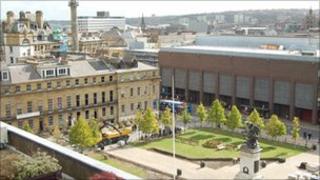 A development company aimed at making two Tyneside urban areas more prosperous and attractive to business is being scrapped by local councils.
1NG is to be replaced by a "business development commission".
This will work with the marketing agency NewcastleGateshead Initiative to promote economic and leisure projects.
Newcastle and Gateshead councils say the change is partly due to the closure of regional development agency One North East.
Labour politician Lord Falconer, who chairs 1NG and will lead its replacement, said: "The company was dependent on money from the regional development agency and it was abolished by the government.
"It was dependent on money from the local authorities and they've had their money savagely cut by the government. The local authorities understandably have indicated they can't go on financing 1NG."
A government spokesman said: "The government has delivered a tough but fair settlement ensuring the most vulnerable communities were protected.
"If councils share back office services, join forces to procure, cut out the non-jobs and root out the over-spends then they can protect frontline services."
'Save £1.5m'
The regeneration and investment company 1NG had funding of £500,000 a year from each of its three partners.
The councils say the new arrangement could save about £1.5m over three years by merging projects and streamlining work done by more than one team.
Newcastle City Council's director of policy strategy, Andrew Lewis, said: "There's a lot less money than there was. We are facing big government cuts to economic development in the city.
"What Gateshead Council and Newcastle Council are doing are working together to avoid damaging effects from those cuts."
He said they did not expect the restructuring to be expensive although some jobs would be lost from both 1NG and some of the organisations it had funded.