Autumn heatwave could help lower grey seal mortality rate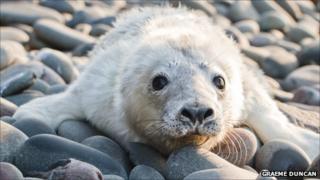 The heatwave across the north-east of England could help to lower the mortality rate among grey seal pups.
In recent years baby seal deaths in Northumberland have reached 45%, with pups being washed away or dying from bad weather.
It is hoped the first pup, born on Tuesday, will survive because of the good weather.
David Steel, Farne Island's head warden, said it was a "bright start to the pupping season".
The Farne Islands in the North Sea are home to the largest English colony of Atlantic grey seals.
Abandoned by mothers
The autumn months bring the birth of hundreds of seal pups on the islands.
When the pups become three to four weeks old they are abandoned by their mothers and given independence.
The first few weeks of its life are important and bad weather can cut some lives short.
"I think this first seal pup is going to have a great start to life," said Mr Steel. "I think all the early pups will survive to independence.
"The mortality rate should be zero really because none of these pups are going to get washed off to their doom."
In the next few weeks it is hoped there will be about 30 more pups born during a predicted ongoing heatwave.
Even though the mortality rate has been high the population in the Farne Islands is increasing.
Mr Steel said: "The big thing is the weather, the storms, at such a young age up until they become independent, they need to be on land with their mothers.
"Unfortunately a lot do get washed off and won't survive. Their white coat isn't waterproof and it's not designed to be in the sea at such a young age.
"Disease does kill one or two per cent but the majority is lost to the North Sea."
In 2010, 1,499 pups were born on the Farne Islands, with about 300 being born every day in peak time.