New Jarrow marcher Lizi Gray has family link to 1936 protest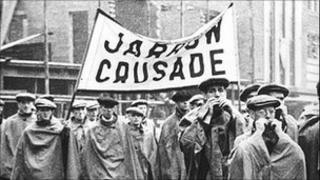 Student Lizi Gray will be retracing her great-grandfather's footsteps when she joins protesters to mark the 75th anniversary of the Jarrow March.
On Saturday, a group of 50 young people will set off on a recreation of the 300-mile walk, as part of a campaign for jobs, education and training.
Michael McLaughlin was one of the original Jarrow marchers, a group of 200 jobless men who in 1936 marched from Tyneside to London with a 12,000-name petition calling for help.
Lizi, his 17-year-old great-granddaughter, has been told stories about him by her grandfather.
"I think it's amazing that he actually took the initiative that a lot of the marchers had to actually do something because with that amount of poverty and diseases you just wouldn't want to stand by and take what was happening to you," she said.
'Feel worthless'
She fears she will be out of work but wants to be self-sufficient and believes her great-grandfather would have had mixed emotions about what she is doing.
She said: "I'd hope he would be proud that we are actually wanting to do something to find work and have some way of supporting ourselves.
"But I think it would just be horrible for him to know that we are still having to make that kind of statement in this day and age when you'd think that kind of thing would have changed."
The march has been organised by Youth Fight for Jobs.
Another of those joining it will be Bobby Crannie, 26, from Tyneside, who has been unemployed for more than a year.
She said she applies for about three jobs a week and most of the time does not receive any kind of response.
"You can tell yourself it's the economic climate, but sometimes you can feel sort of worthless", she said.
'Political stunt'
Maths graduate Daniel Thoburn, who is travelling from Carlisle to take part, has even failed to find shop work.
He said: "I think there is the danger that people like me could become a lost generation without prospects."
In 1936, 73% of people in the town were unemployed and in 2011 it is 9%.
The biggest employer in the area then was Palmer's Shipyard, which closed the year before the march. Now the biggest employer is the public sector.
South Tyneside Conservative councillor Jeff Milburn dismissed the new march.
He said: "I think this is basically a political stunt. I think now it is not as bad as it was then, clearly not.
"There are problems that we have, great economic problems, caused by the previous Labour government who just spent, spent, spent."
However, Labour Jarrow MP Stephen Hepburn suggested things could currently be worse for those without work.
"The difference then was that nobody had anything really, your neighbours didn't have anything," he said.
"Now, we live in a society where you could be living next to your neighbour who has got all the material benefits and is in work.
"In a way unemployment is a little bit more difficult now."
Watch more about the new march on The Politics Show, North East & Cumbria, Sunday 2 October, midday.