River Ouseburn foam: Cleaning liquid theory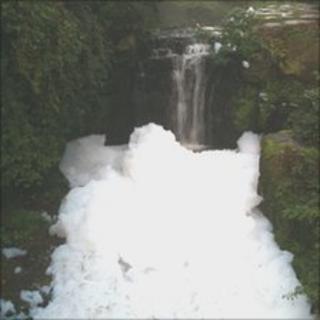 Detergent may have caused foam which polluted a Tyneside river and took six hours to clear.
The mystery bubbles appeared in the River Ouseburn which runs through Jesmond Dene, Newcastle, on Wednesday.
The Environment Agency said the pollution was traced to a pipe near Salters Bridge and it is believed a detergent had been poured down a drain.
Water samples are being tested to see if it is harmful. The agency is appealing for help.
The pipe links to a drainage system, which covers the Benton Lane, Killingworth Village, Killingworth Moor or Forest Hall areas.
Rob Carr, spokesman for the Environment Agency, said: "We'd like to thank concerned residents who have already alerted us to the pollution.
"We know that it could have come from any one of four areas, so we're calling on anyone who lives in those areas or happened to be there on Tuesday or the early hours of Wednesday to report anything suspicious.
"We suspect that the pollution was some form of detergent, which could have been poured directly down a drain.
"The foam took six hours to clear, but we can still see the effects today - it spoiled everyone's enjoyment of Jesmond Dene in this warm weather."