Two in court over Frankland Prison murder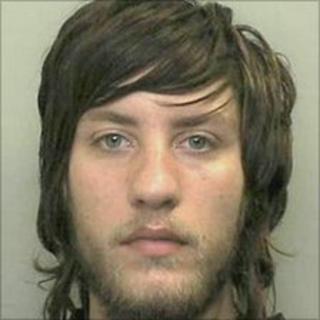 Two inmates charged with the murder of a convicted child rapist at County Durham's high security Frankland Prison have appeared in court.
Michael Parr, 32, and Nathan Mann, 23, were arrested after the body of Mitchell Harrison was found in a cell at the prison on Saturday.
Harrison, 23, was jailed for raping a 13-year-old girl in Cumbria in 2010.
Neither accused entered a plea and the case was referred to Newcastle Crown Court to be heard on Wednesday.
A post-mortem examination revealed Harrison died from multiple injuries, although police have declined to go into detail about the circumstances of the attack.
Harrison, originally from Wolverhampton, was serving an indeterminate sentence of at least four-and-a-half years after being convicted at Carlisle Crown Court in January last year.
He was also put on the sex offenders register for life after the attack on the teenager at a property in Kendal, Cumbria, in 2009.
Category A jail
A statement released by Mitchell's family said it did not condone his crime, but that he did not deserve to die in such a "horrific way".
The statement said: "Mitchell was a much loved son and brother and we are devastated by his death.
"Although we never condoned his past actions, he was serving his time and was by all accounts a model, trusted prisoner who did not deserve to die in this horrific way.
"We look forward to the day when the people responsible are brought to justice."
Frankland Prison is a Category A jail and houses more than 800 inmates, including some of the most serious offenders in the prison system.