Doctors oppose new £75m hospital in Cramlington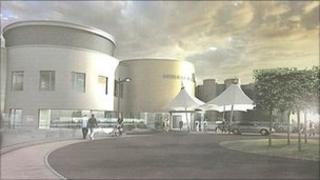 Doctors in Newcastle have signed a letter opposing plans for a £75m specialist hospital in Cramlington.
A planning application for the emergency care hospital will be considered by Northumberland councillors on Tuesday.
Twenty paediatricians from the Great North Children's Hospital claim the children's wing at the new hospital would be better-placed in Ashington.
Northumbria Healthcare Trust declined to comment before the council meeting.
The doctors' open letter said: "[There is] nationwide agreement that the current number of children's inpatient units is unsustainable.
"For reasons of population distribution and need, the unit would be better placed in Wansbeck General Hospital, Ashington."
They also questioned the cost of the new hospital.
"[It] is surely an expensive and unnecessary duplication of already hugely stretched public money and NHS resources," they said.