Coal to be extracted from Newcastle Science Central site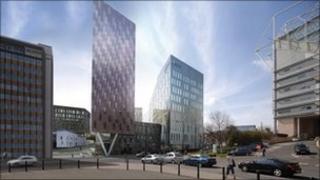 Thousands of tonnes of coal is to be extracted from the site of a science-based development in Newcastle.
The Science Central project aims to attract hi-tech firms to the site of the former Newcastle Brewery and 1,900 jobs over the next 20 years.
Development company 1NG said 60,000 tonnes of coal was locked in abandoned mine workings under the site.
It claims coal extraction would save about £5m, which would have been spent on filling the site with concrete.
Private firms will be asked to tender for the extraction contract, which is expected to last about seven months.
Colin MacPherson, 1NG Science Central project director, said: "Extraction of the coal before it becomes sterilised and inaccessible is a more sustainable approach to preparing the site and will assist the financial delivery of the long-term Science Central vision."
Newcastle University's professor Paul Younger, an expert in mining environmental management, added: "The site is underlain by shallow mine-workings at several levels.
'Potential damage'
"In these old mines, more than half of the original coal has been left behind.
"These old workings are in various states of partial collapse, and those in the shallowest two seams have particular potential to damage future buildings on the site.
"The alternative would be to inject cement into the old mine voids. A study of the site suggests this approach would require around 50,000 cubic metres of cement.
"Cement production is one of the most carbon-intensive industries and the carbon footprint associated with this would be significant."
1NG said any extraction would be "well-managed" and result in "minimal disruption" to nearby homes and businesses.
It is hoped the three-phase Science Central development, which is expected to cost a total of about £700m, will generate at least £255m investment.