Sunderland based firm lands jet fighter contract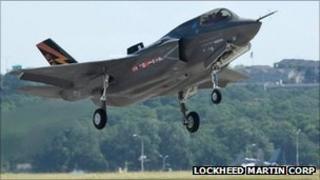 A Sunderland-based engineering company has won a multi million-pound contract to build equipment for a military fighter jet.
Haskel Europe has secured the deal, worth up to £2m a year for the next 14 years, to design and produce equipment for the F-35 Joint Strike Fighter.
The deal safeguards the company's 64 employees and creates 10 new jobs, with work starting straight away.
Haskel's MD Steve Learney said it was "fantastic" for the company.
Haskel Europe will produce a set of equipment for every squadron using the plane and for the prototypes currently being tested.
It will be used by US and UK forces.
'Exciting contract'
Steve Learney, Haskel Europe managing director, said: "It is fantastic to find we have been successful in our bid to be part of this exciting contract for the new fighter aircraft.
"We'll be working alongside world-leading companies to deliver the highest quality landside equipment from our Sunderland base."
The contract was awarded to the company after it upgraded its clean room to high defence standards. The room is where the equipment will be produced.
Councillor Paul Watson, Leader of Sunderland City Council said: "This is an important contract for the UK to win, and I'm delighted that Haskel in Sunderland has secured it.
"It proves yet again that the city attracts some of the UK's top companies."
Haskel has had a rolling contract with the Ministry of Defence for 30 years.
The F-35 is due to launch in 2013.