Cleveland Police Band to celebrate 40 years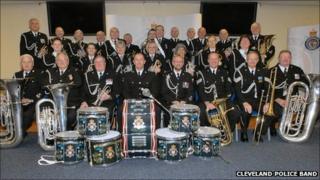 Cleveland Police Band will celebrate its 40th anniversary with a concert of remembrance and proms.
It will be joined by the Royal British Legion, which is celebrating its 90th anniversary this year.
The concert will take place on 14 October and will pay tribute to soldiers who have lost their lives in war.
The band formed in 1971 and offers a link between the community and the police through music.
Retired officer and Band Sergeant Tony Slater, who has played second trombone for eight years, said: "Cleveland Police Band is an integral part of the police family and is comprised of serving officers, retired officers and members of the community.
"My interest was kindled when I was approaching retirement from the police force and decided to take up the instrument.
"The opportunity to maintain links with the community through the police struck me as worthwhile, hence my interest."
Twin town
The band performs about 20 times a year and raises money for charities.
It has performed in Oberhausen, Germany, which has been twinned with Middlesbrough since 1974.
The 40th anniversary event is at the Stockton Baptist Tabernacle.
Mr Slater added: "I'd like to see it go on for another 40 years."