'Noisy' peacocks capture reward divides Whitburn estate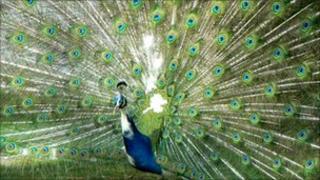 A £300 reward offered for the capture of two wild peacocks on a Tyneside estate is being investigated by police.
A poster was put up on the Shearwater Estate in Whitburn offering the reward for the noisy peacocks' capture.
Many of the affluent estate's residents admit the peacocks can be noisy but say they like to see the colourful birds roaming about.
They are unhappy a reward of £150 per bird is being offered and say the noise only lasts for a few summer weeks.
Jim McDermott, who sees the birds regularly, said: "They're not noisy at all. Maybe when he was looking for a hen he would scream and shout to see if he could attract one but now he realises there's no hens around."
He said: "They're no bother. But, in my opinion, I feel they should be in a sanctuary of some sort, for their own good, not for somebody giving a... reward for catching them."
Originally there were three peacocks but the female disappeared and it is thought no-one knows what happened to her.
'Shouting and screaming'
Earlier this year South Tyneside Council received a complaint about the noise and sent out a survey, which found 60% of respondents wanted the birds left alone.
Some residents have said they are concerned at the appearance of the reward poster.
One, who said she did not want to be named, said the peacocks spent a lot of time in her back garden.
She said: "They can be noisy at certain times of the year but they're no bother. It doesn't go on all night."
Another resident, who also said he did not want to be named, said: "When they're in front of you you don't mind them shouting and screaming because they're nice to look at.
"I know most of the people that I've spoke to round the estate they don't mind them at all. It's just a select few that have got nothing better to do than to moan because there's something new."
Northumbria Police said officers were aware of the reward poster and were investigating.