Sandhaven dunes get grass plants for protection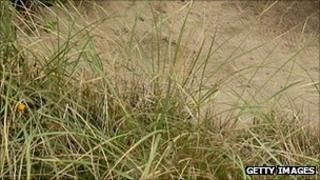 Grass costing £55,000 is being grown to save sand dunes on a Tyneside beach.
South Tyneside Council is having 268,000 plants propagated at a nursery in Norwich and transported 250 miles to Sandhaven Beach in South Shields.
It hopes the marram and lyme grasses - which can grow to 4ft (1.2m) and 8ft (2.4m) respectively - will protect the sand dunes from erosion.
They will be planted in February next year, avoiding winds which could blow over and bury the plants.
The cost of the scheme is being covered by a £300,000 grant from the Environment Agency.
On top of £55,000 for the plants, a further £172,000 will be spent on fences, signs and the removal of invasive plants.
A council spokesman said the Sandhaven dunes offered "vital coastal protection to the South Shields foreshore".
'Major environment project'
He said: "The funding will enable us to restore and stabilise sand levels by installing fencing to trap windblown sand as well as planting dune grass and wild flowers."
The plants are being grown by British Wild Flower Plants (BWFP) nursery in Norwich from seeds collected on the dunes.
The nursery's owner, Linda Laxton, said the contract was only slightly bigger than their usual jobs, having already raised 140,000 seedlings for planting along the A1 in Northumberland and 100,000 for the Channel Tunnel.
She said: "It's going to be pretty major for them [the council], as an environment project. Everybody's saving money on everything but this is some environmental work that's getting done over and above keeping the drains clean and keeping the water running.
"This is habitat being created on a fairly large scale."
Ms Laxton estimated five articulated lorries would be needed to transport the seedlings in one journey.