Northumberland couple install their own memorial bench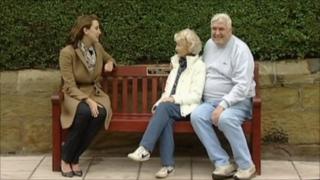 A memorial bench has been installed at a bus stop in a Northumberland village - but the couple "remembered" on it are still alive.
Jimmy Campbell and Sally Miller have arranged for the bench bearing their names to be installed.
Mr Campbell, 78, has arthritis and wanted a seat to use while he waited for the bus near his home in Alnmouth.
He said he had originally planned for it to be erected after his death but decided he wanted to use it himself.
He said: "When I was waiting for the bus it was hurting my legs.
"I thought 'when I die I want a dedicated seat'. But I was thinking about it and I thought 'why wait till I die, I need it now'."
He said he was hoping "drunks don't start lying and sleeping on it" though he warned he would tell them to "get off my bench".
The plaque commemorates the couple even though, in their own words, they are both in "life's departure lounge".
The plaque reads: "Jimmy - In departure lounge, Sally - Flight delayed indefinitely" on the back rest of the bench.
Ms Miller said: "I didn't really like the idea at all, I thought it sounded a bit creepy but I like the actual wording on it, it's funny, it's made it fun."