Prince Charles takes salute in Newcastle veterans parade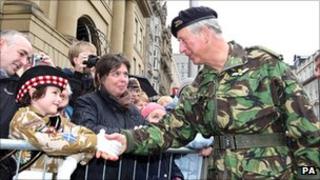 Hundreds of people have lined the streets of Newcastle to watch a parade of tanks as the Prince of Wales took a salute from soldiers and veterans.
Twelve Scimitar tanks rolled past city centre shoppers as members of The Queen's Own Yeomanry exercised their Freedom of the City.
The Prince is Royal Honorary Colonel of the armoured territorial regiment which is celebrating its 40th anniversary.
Troops were led by the Band of The Royal Regiment of Fusiliers.
The Prince, who wore combat uniform, also met families of some of the soldiers from the unit who are currently heading out to Afghanistan.
He was accompanied by dignitaries including the Duke of Westminster, who is also honorary colonel to the regiment.
The Honorary Freedom of Newcastle upon Tyne was originally given to the Northumberland Hussars in 1969 but the squadron became part of the Queen's Own Yeomanry in 1971.
'Real privilege'
The Prince later moved to a service of thanksgiving at St Thomas the Martyr church.
The Commanding Officer of The Queen's Own Yeomanry, Lt Colonel Simon Graham, said: "It is a real privilege to be given the Freedom of Newcastle.
"The Queen's Own Yeomanry is celebrating 40 years as a regiment in which they have deployed soldiers all over the world, wherever a conflict has taken place.
"We currently have 30 QOY serving alongside their regular counterparts in some of the most dangerous parts of Afghanistan.
"The QOY has over 80 serving members in Newcastle and we will use the Freedom of Newcastle to bring together the entire regiment who are based in Belfast, Cupar, Ayr and York."