Ageing Tyne and Wear Metro trains get £25m revamp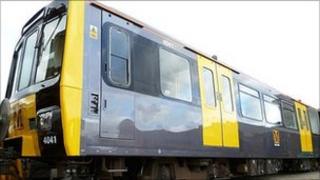 The first Tyne and Wear Metro train to undergo a multimillion-pound makeover has been unveiled.
Since the network began operating in 1980 train liveries have only changed once, in the early 1990s.
Now the traditional yellow, red, blue and green colours have been dumped in favour of a sleek metallic grey and black design.
Owner Nexus said the £25m project would see all 90 Metrocars revamped over the next four years.
The trains are being transported by road to Doncaster, where they are being completely stripped down, refitted and repainted. The carriage interiors and drivers' cabs have also been replaced and refitted.
The first Metrocar to be chosen for refurbishment was 4041, named after the late Gateshead Councillor and MP Harry Cowans in honour of the work he did in the 1970s to get the Tyne and Wear Metro built.
A spokesman said: "It is very exciting to welcome the first of the refurbished Metrocars back onto the network.
"The new colour scheme will tie in with our new uniforms and over time passengers will see more and more refurbished trains in service.
"This refurbishment is challenging logistically as we need to ensure there is no disruption to service.
"Once passengers see the new design, we hope they will be just as impressed with it as we are."
Nexus commissioned the project as part of an overall £385m upgrade of the Metro network.