Abbey memorial for 'hammer' victim Judith Richardson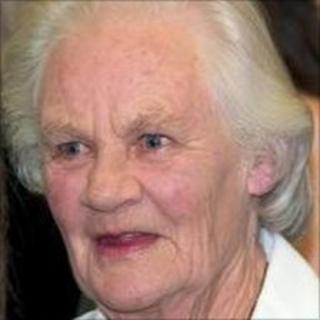 A memorial service has been held for a 77-year-old Northumberland woman who died in a hammer attack.
Judith Richardson was found dead at her home in St Wilfrid's Road, Hexham, on 19 August. Police said she was beaten to death with a hammer.
Friends and family gathered at Hexham Abbey to remember a "kind, mentor and friend" who had volunteered for the Women's Royal Voluntary Service (WRVS).
A 47-year-old man has been charged with her murder.
'Good listener'
Canon Graham Usher, Rector of Hexham, said: "We have come to honour and cherish someone whose life was tragically cut short.
"The purpose of today's service is to celebrate her life and to give thanks to God for her and all that she was to those who knew and loved her.
"In Judith we saw so many acts of kindness and care shown towards those within whose orbit she moved."
Miss Richardson, who grew up in Kenya, spent 10 years working for the WRVS in Germany and Northern Ireland where she ran leisure clubs for the 39 Regiment Royal Artillery.
Canon Usher added: "Many found Judith a great mentor and careful confidante.
"Throughout her life, and in her many different roles, people discovered that she was a good listener who gave impartial advice so as to help people come to their own decisions."