Aviation fuel falls on Heddon-on-the-Wall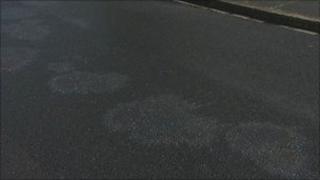 Aviation fuel is thought to have fallen on parts of a village on the outskirts of Northumberland.
Aquila Drive in Heddon-on-the-Wall is underneath a Newcastle Airport flight path and has a trail of fuel puddles running through it.
The fuel is thought to have come from an unidentified aircraft and landed across the road and gardens.
Newcastle Airport said it had "no knowledge" of the incident but would "continue its investigations".
Edith Simpson, a resident on Aquila Drive, said: "I came home to all of this oil on the drive.
"It's rather gooey and it's definitely some kind of oil or petrol substance."
Aircraft do not routinely dump aviation fuel on residential areas and Newcastle Airport said it had contacted the six airlines which flew over the area during the relevant time period.
Newcastle Airport spokesman said: "Each airline has reported no knowledge of the issue and informed us that all aircraft operated as normal for the rest of the day.
"Newcastle Airport will continue its investigations into the reported incident."