Stowaways found at North Shields ferry terminal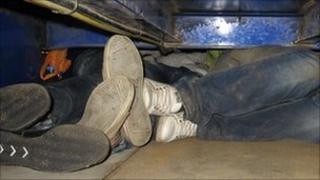 Nine stowaways have been intercepted at a ferry terminal on Tyneside.
The Albanian men were discovered by UK Border Agency officials on two Romanian registered lorries that arrived on a ferry from The Netherlands on Monday.
After an investigation, and liaison with the Dutch authorities, they were returned to The Netherlands on the late afternoon ferry the same day.
The haulier was issued with a £5,000 civil penalty for failing to properly secure the vehicles.
John Spence, assistant director at the UK Border Agency, said: "Officers at Tyne Dock use the latest technology, sniffer dogs and their own experience and expertise to stay one step ahead of illegal immigrants.
"We will not hesitate to take strong action against hauliers who fail to secure their vehicles."