Sunderland play pleases Paris audiences with cliches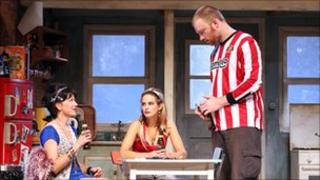 A stereotypical Sunderland, complete with unemployment, beer and a football-loving boyfriend, is transfixing theatre audiences in Paris.
The play, called Sunderland, portrays a city where the morals are loose, the clothes are gaudy and the rain makes people think "they were born in a washing machine".
It was written by a former French businessman, now an author, who studied in Durham in 1991 and worked for six months at Sunderland's Nissan factory.
The French newspaper Le Figaro described the play as a cross between The Full Monty, Brassed Off and Local Hero.
It refers, in a complimentary review, to a "cheerful" city with a "gentle touch of amorality".
The play's author, Clement Koch said: "It's a great buzz in Paris at the moment. In French theatre we have plays we call a little bit bourgeois [middle class] and it's good for us to have a play talking about workers."
He says the "positive" play is giving French audiences a new perspective.
He said: "It's a lively play. I'm sure the first reason of the success of the play in Paris at the moment is because the people saw something different."
'Romantic vision'
Mr Koch is a fan of Sunderland and Durham. Although his "romantic vision" of what to expect had to be reconsidered once he was there, he said he liked "the passion and the atmosphere" of that part of England.
He also thinks, despite the stereotypes, Sunderland residents will be happy with their portrayal.
"I'm sure, because it is a lovely story. There is no way that the English could say it's a wrong pastiche of the north of England. No, it's just a play which is located in the north of England, that's all. It's not a carte postale [picture post card] of Sunderland."
The play's main character, Sally, is trying to keep custody of her younger sister and decides to raise money by becoming a surrogate mother.
Her boyfriend is not in touch with his emotions unless he has recently been in touch with a pint glass and his only admitted passion is for Sunderland Football Club.
Colin Randall, a blogger and journalist from Sunderland who now lives in France, likened the play to traditional kitchen-sink dramas such as Cathy Come Home.
He said: "The reviews I've seen, both private theatre-goers and professional critics, suggest that he captures the bleaker aspects of the play in a way which also demonstrates humanity and humour.
"It's gone down a storm. I haven't come across anything negative. People seem to find it uplifting - in a depressing sort of way."