Tyne tunnels get go-ahead for £4m revamp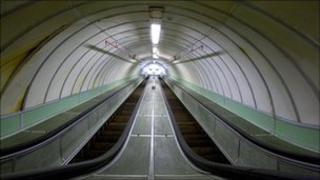 The Grade II listed Tyne pedestrian and cyclist tunnels have been given the go-ahead for a £4m refurbishment.
Planning permission has been approved by North and South Tyneside Councils, with work expected to start in spring 2012 and take about a year to complete.
The tunnels between Howdon and Jarrow opened in 1951 and are used for about 20,000 journeys every month.
South Tyneside Councillor Tom Hanson said it was "tremendous news" the revamp had been given the go ahead.
The biggest change to the tunnels will be the replacement of two of the original escalators with inclined lifts, with the remaining two escalators opened up to public view and illuminated with feature lighting.
'Historic structures'
Currently, three of the four escalators are permanently out of service.
Councillor Tom Hanson said: "This is tremendous news. The tunnels have served this part of Tyneside well for over 60 years but in recent times they have suffered equipment breakdowns and have looked their age.
"I believe we have achieved an excellent balance between conserving the historic structures and improving the experience for the increasing numbers of pedestrians and cyclists who use the tunnels for crossing the river."
The Tyne and Wear Transport Authority approved funding for the refurbishment.