North Shields metro station rebuild closes line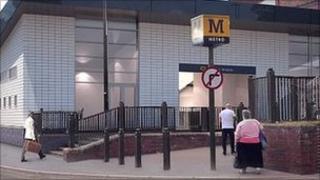 Work to rebuild a Tyne and Wear Metro station has resulted in weekend closures to a stretch of the line.
The existing station at North Shields has been demolished, as part of a £385m modernisation programme of the network.
During the rebuilding work, contractors have to lift the steelwork, which will form the basis of the new structure, over the tracks.
This means the line between Tynemouth and Meadowell will be closed on Saturdays and Sundays, until November.
The lifts will take place using a crane at the junction of Nile Street and Rudyard Street and these roads will be closed with local traffic diverted.
The new station will be one of the first in the network to include ticket barriers, and machines which accept notes as well as coins.