Demolition of Aykley Heads leisure centre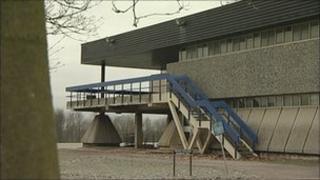 Work has begun demolishing a former police-run County Durham gym which was closed down to save money.
Aykley Heads leisure centre, in Durham City, opened 30 years ago to help officers hurt at work to recover.
Durham Police Authority closed it down in March saying it could no longer afford the £213,000 a year running costs.
A spokesman said council tax would have had to have been put up to save it, and this was not an option.
Police Authority chairman Peter Thompson said: "I regret the closure of the sports centre and the decision was not taken lightly.
"We felt that we had little choice in light of the severe spending cuts that have been imposed on us by the government.
"The alternative would have been to increase council tax to continue to pay for it which we did not want to do."
The centre had 1,100 members, but only 300 of them were employed by the force.
It also featured a 25m swimming pool and two squash courts. Demolition of the building will be completed by November.