Council responds to Tynemouth parking concerns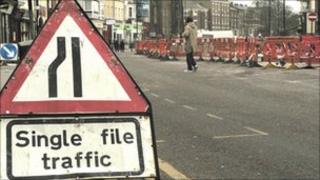 Concerns from Tynemouth traders about a new parking scheme in the village have been taken on board by the council.
Traders said changes to central parking were affecting their businesses, with residential permits and reduced spaces meaning shoppers found it hard to park.
The scheme, introduced in April by North Tyneside Council, is now being modified.
Elected Mayor Linda Arkley said the aim was always "to achieve the best" for businesses, residents and visitors.
The council will now improve signage to direct motorists to long stay car parks and relocate disabled bays to make way for a new loading bay in Hotspur Street.
They will also resolve loading bay issues at the western end of Front Street and bring back the two-hour parking limit with additional permits allowing businesses to extend this limit for customers.
Boosting turnover
However, the proposal from businesses that residents-only parking areas should be changed to mixed use during the day, was opposed by residents and will not be implemented by the council.
Ms Arkley said: "The council introduced the scheme in good faith and have listened to the representations from businesses and have already put in place several improvements to the scheme.
"These latest recommendations will deliver further improvements and help boost the turnover in parking spaces to support shoppers and businesses.
"However, the council has consulted with residents who campaigned for the current parking arrangements for 10 years and they do not want a return to the old system."