North East councils 'ready' for third harsh winter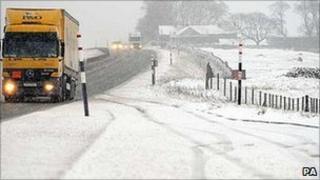 Councils across Tyne and Wear, County Durham and Northumberland say they are confident they can cope with another harsh winter.
Local authorities will spend more than £7m on keeping vital roads open, with most boosting stocks of gritting salt.
Durham County Council has set aside £2.75m and already has 45,000 tonnes of salt and grit stockpiled.
It also plans to pay 60 farmers to help keep estate roads open.
A spokeswoman said: "It is very difficult to say how long our salt stocks will last as it is largely dependant on the severity of the weather and the length of time the severe weather will last.
"However, we have contingency plans in place to restock with salt either from our own supplier or from other sources both at home and abroad in the event that it is required."
'Well-prepared' pledge
A Sunderland City Council spokesman added: "Our salt stocks have always proved to be adequate and their usage is continually monitored throughout the winter maintenance period.
"During periods of severe winter weather the council runs a 24-hour treatment programme for the city's main commuter routes, such as the A690 and A1231.
"Other staff are also diverted to snow and ice clearing duties as and when required."
All councils said gritting would be focussed on main commuter routes.
A spokeswoman for the Department for Transport said: "We continue to take action to ensure that the country will enter this winter season well prepared.
"It will now be for local authorities to ensure that they are ready and prepared in tackling any severe wintry weather that we may face."
Northumberland County Council plans to spend £2.14m and has 40,000 tonnes of salt in storage.
Sunderland City Council said its winter roads budget was £857,000 and had 15,000 tonnes of salt.
Gateshead Council said it had 15,000 tonnes of salt and had set aside £378,000.
Newcastle City Council has 12,000 tonnes stockpiled and set a winter roads budget of £655,000.
South Tyneside Council has 7,000 tonnes of salt, with a further 1,000 tonnes on order.
North Tyneside Council said it currently had 6,000 tonnes stockpiled - 500 tonnes more than last year - and planned to spend £359,000.