Dave Gorman helps Northumberland couple get engaged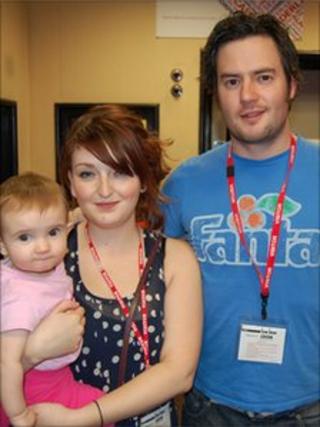 For only the second time in his career, comedian Dave Gorman helped a couple to agree to spend the rest of their lives together.
Jamie McClay and Danielle Robinson, from Blyth in Northumberland, were at Dave's show in Newcastle on Sunday.
In front of 1,200 people, Danielle was surprised to hear Dave call out her name and then boyfriend Jamie to go down on one knee.
Danielle said: "I knew he was up to something, I didn't think it was that for a second and he was acting strange all day."
Jamie had been tweeting Dave Gorman before going to the show.
He had opened a Twitter account and his first tweet was to task Dave Gorman if he would help him.
He tweeted: "Hi Dave, any help with the proposal would be great, money tight so a Ferrero Rocher wrapper ring will have to do her for now."
"I signed up to Twitter just to get in touch with Dave," said Jamie.
'It's exciting'
"I thought he might be able to give us some help because he seems to be a people kind of person."
At the end of his show Dave called out the names of the couple and Jamie quickly went down on one knee with his makeshift chocolate wrapper ring.
After Danielle said "yes" to Jamie, 1,198 people cheered.
Mr Gorman told BBC Newcastle that he had previously helped a couple in Sydney, Australia get engaged.
He said: "Hand on heart, I've done it once before with a couple who didn't end up getting married!
"It's exciting for the whole audience because yes or no, it's exciting.
"No offence to Jamie, but if she had said no, it would have been hilarious, but I was very happy to do it."