Protesters at Newcastle's Grey's Monument plan winter camp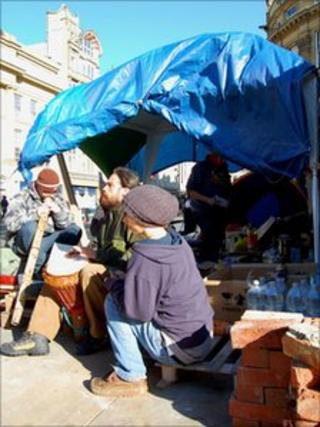 A group of anti-capitalist protesters camped in the centre of Newcastle insist they are prepared to stay throughout the winter if necessary.
They are huddled next to preachers, campaigners and shoppers at Grey's Monument, well known locally as a venue for anyone with a soap box or a friend to meet.
Claiming to be non-partisan and leaderless they have been there since Saturday, part of a series of demonstrations worldwide against capitalism, spending cuts and the disparity between the world's richest people and the so-called "99%".
Matthew Green, a musician, said: "I'd like to think it was short term but I think anything worthwhile isn't going to be got quickly and easily."
Samantha Duckworth agreed: "Doing it at this time of year will make a really powerful statement because we are camping in all the roughest elements of the north-east. I believe things need to change and this is an opportunity to make that happen."
The realities of living outside in the cold, wind and rain are already being felt. Tarpaulin covering a summer gazebo is constantly flapping despite remedial gaffer tape.
James Bell, a student from Whitley Bay, says keeping warm at night can be difficult.
"Yesterday was pretty bad," he said. "We had the rain at first which kind of forced us to reassemble the entire camp, but it's all right if you bring enough clothes."
Surplus donations
Mark Wilson, who is unemployed, said: "If you can survive being out in this environment for the next couple of months, because it will be a very harsh winter, then that just amplifies what it is that we're trying to get across.
"It's no point packing up after two weeks, saying we've made our point."
Not all of the group stay the night. Mark goes home, as do many of those with jobs or family commitments. Matthew says there is an "ebb and flow" of people, sometimes a dozen, sometimes more or fewer.
Their needs are catered for. Sympathetic cafes and shops have offered food and the use of toilets. So much food, says Matthew, they have been passing on their surplus, and cups of tea, to local homeless people.
Their makeshift kitchen contains a portable stove, kettle, tins, bread - a lot of donated bread - and a box full of fruit and vegetables from traders at the nearby Grainger Market.
Matthew tells the story of two old ladies who came to offer support and asked what was needed. They disappeared into the department store across the road, returning five minutes later with a brand new pressure cooker.
No laws broken
Time passes with conversation, among themselves and with curious passers-by. Repeatedly pinning down the tents also occupies them.
Matthew, playing his djembe drum, makes it clear the protest is peaceful: "A lot of things have been changed through passive resistance. You don't need to use violence to get your message across."
Mark agrees: "We're not breaking any laws, we're not trying to be anarchists, we're just here to make a point. It's a rigged game. The system is not geared up for the little man, it's geared up for the one per cent."
Ian Dormer, a north-east businessman and former vice-chairman of the Institute of Directors, said everyone had a right to protest in a democracy but he thought the campaigners were missing the point.
"The reason we have a good public sector is because private companies are generating income so people pay taxes in order to support it," he said.
Northumbria Police and Newcastle City Council say that as long as the occupation is peaceful and no laws are being broken, there is no reason to move the protesters.
They have been given a few basic instructions, however: leave space for other campaigners, do not write slogans on the monument with chalk and keep out of the way of the council's outdoor cinema which will be screening until Christmas.