Bowes Railway to receive funding from English Heritage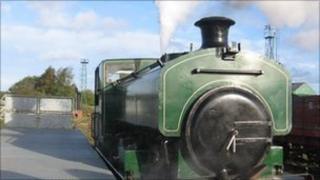 The Bowes Railway in Tyne and Wear is among "at risk" industrial sites to receive funding from English Heritage.
The Bowes Railway is to get almost £150,000 of funding from English Heritage with a further £35,000 coming from Sunderland City Council.
The money will be spent on renovating a wagon shed at the railway museum in Springwell Village near Gateshead.
Buildings included on the latest English Heritage at risk register are deemed at risk of decay or demolition.
Sunderland councillor John Kelly said: "Bowes Railway is the world's only remaining operational rope-hauled railway and its inclusion in the risk register highlights just how important it is.
"The line played a hugely significant role in the development of railways and coal production in the North East, and also in the wider industrial revolution."
English Heritage said the buildings were more at risk than almost any other kind of historical building, and need protecting as many of the structures and technologies needed to drive the Industrial Revolution were invented in England.
Other buildings to make the register in the region include the Mill Dam in South Shields, Prebends Bridge in Durham and Allenheads Lead ore Works in Allendale.