Sunderland Harriers expel marathon 'cheat' Rob Sloan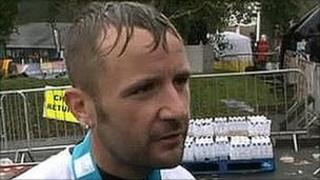 A runner who was disqualified from a Northumberland marathon after being accused of cheating has been expelled from his athletics club.
Sunderland Harriers said overwhelming evidence supported claims Rob Sloan travelled part of the Kielder Marathon course earlier this month by bus.
Mr Sloan had denied the accusations but was disqualified. He then returned his bronze medal.
This has now been presented to Steven Cairns of Peebles, Scotland.
Former Olympic runner Steve Cram handed it over to Mr Cairns, 43, during a ceremony which took place on board an open-top bus in Edinburgh on Wednesday.
The constable with Lothian and Borders Police said: "I think it was just a moment of madness for the guy who said he was third.
"I think he just wanted his T-shirt and medal but did not realise he was third and he just had to play along with it."
He added: "It's great to have met Steve [Cram].
"For him to have come up and present the medal in person just tops the performance on the day."
Eyewitnesses told race organisers they saw Mr Sloan flag down a bus about 20 miles into the race on 9 October.
'It's laughable'
He was then allegedly seen hiding behind a tree before rejoining the race in the closing stages and crossing the line in third place.
But the Sunderland Harriers' executive committee decided Mr Sloan, who had joined the club in June, should be thrown out.
In a statement, Sunderland Harriers said: "We have expelled forthwith Rob Sloan from membership of the club through his actions during the Kielder Marathon.
"The decision was made at an executive committee meeting, which Mr Sloan failed to turn up for after stating he would attend.
"We apologise again to the Kielder Marathon organisers and especially to third place runner Steve Cairns, whose moment of acclaim was denied."
After the race, former Olympic athlete and event director, Steve Cram, said: "Mr Sloan made a mistake and has apologised to us for the confusion it has caused."
After being disqualified, Mr Sloan told the BBC: "I'm upset and angry that someone wants to cast these aspersions.
"It's laughable is what it is, where they've come from I don't know."