Steven Dunn inquest: Blast soldier died to 'save lives'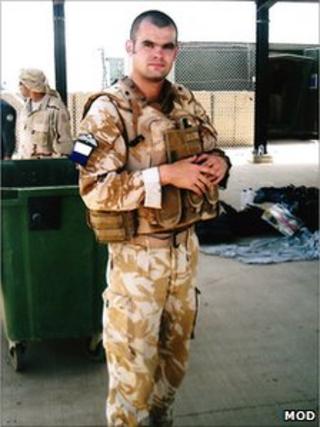 A soldier killed on an intelligence mission in Afghanistan helped save many lives, an inquest has been told.
Cpl Steven Dunn, originally from Gateshead, was part of a patrol trying to find enemy bases and hideouts during a four-day mission in Helmand province.
The 27-year-old, of the 216 Parachute Signal Squadron, Royal Corps of Signals, suffered fatal injuries when his vehicle hit a roadside bomb.
A verdict of unlawful killing was returned at a hearing in Newcastle.
The communications expert was part of a patrol trying to disrupt insurgents based in Bowri desert, where Allied forces had not been for a year.
Cpl Dunn's colleague Capt Iain McMahon told the hearing at Newcastle Civic Centre: "While it was a horrific loss, the operation itself gained that much information it would have saved many, many lives."
'Died in helicopter'
He said information brought back from the mission had helped shape the way forces operated in the area for many months.
Capt McMahon was in the Jackal vehicle with Cpl Dunn, two other soldiers and an interpreter following two suspicious vehicles along a dusty track, when it was blown up.
The hearing was told that the bomb was probably detonated via a wire from a nearby enemy compound.
Capt McMahon suffered minor injuries.
Cpl Dunn, who was married to Cheryl and father to Emily, died while being taken by helicopter back to Camp Bastion.
The Newcastle United fan, who most recently lived in North Kenton, Newcastle, died from blast injuries, a post-mortem examination found.