Kevan Thakrar trial: Frankland officers 'not racist'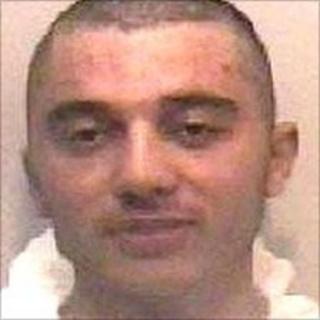 A guard giving evidence at the trial of an inmate accused of attempted murder said there was no "culture of racism" at Frankland Prison in County Durham.
Kevan Thakrar, from Hertfordshire, is accused of two counts of attempted murder and wounding with intent.
He denies the charges, saying he acted in self-defence after being threatened.
Newcastle Crown Court was told that officers who subdued him after the attack with a broken bottle made racist comments and threatened to beat him.
Under cross examination one of the officers, Peter Lumley, said there was not "a culture of racism by prison officers towards inmates".
The jury was told that Mr Lumley and three colleagues had to take Thakrar to the isolation unit after the attack in March 2010, and a section of the route was not covered by CCTV cameras.
Joe Stone, who is defending Thakrar, said: "There was a discussion between the four of you whether you should attack Mr Thakrar there in that blind spot at that particular time and you said 'no, wait till we get him in The Box'."
Mr Lumley, who has worked at the high security prison since 1998, denied the accusation, as well as one that the officers had made racist comments.
He said: "I used to be the race relations officer and relations were good between the multicultural communities in Frankland."
Thakrar, 23, and from Stevenage, Hertfordshire, denies the attempted murders of officers Craig Wylde and Ms Lewis and the wounding with intent of a third guard, Neil Walker.
The trial continues.