Byker scrapyard fire remembered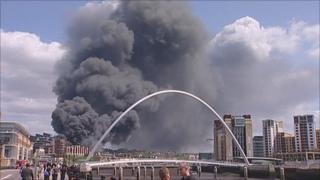 People affected by a massive fire at a Newcastle scrapyard earlier this year have talked about the impact it had on them and questioned the siting of such yards near homes.
Dozens of firefighters spent hours bringing the blaze at the Ward Brothers yard, in Byker, under control in May.
Smoke could be seen across the city and from miles away and crowds turned out to watch the spectacle.
And it added to the ongoing debate about the siting of scrapyards in residential areas.
Jim Cullen, who lives in the nearby Byker Wall, said it had made him feel uncomfortable and that such yards should not be near homes.
Another resident, Stacey Davidson, said: "There's always been a scrapyard here so it's just the norm to us.
"But in circumstances like this it is very dangerous. Especially with all the toxic smoke and stuff."
Spread quickly
Scrapyard workers said they were shocked at the speed the fire spread.
Gareth Morgan said: "Me and one of the lads who work here went in. When I turned round he wasn't there any longer. So I went back to try and find him in the smoke.
"What seemed to have happened was something had got in his eyes, possibly smoke and he was on the deck holding his eyes. I managed to drag him, put him to safety near the offices.
"I have never seen a blaze anything like it."
Ian Robertson, from Tyne and Wear Fire and Rescue Service, studied CCTV footage from the yard, for his investigation. He said the fire followed was accidental.
He said: "What we have had here is the grabber has come down, we have had a metal to metal contact which has created a spark in the area where we have had some flammable liquid.
"It's taken approximately four minutes for the majority of that waste pile to be fully engulfed."
Hazardous materials
The Byker scrapyard fire was one of a number in the north-east of England and around the country in recent months.
Steve Wilks, senior lecturer in safety disaster and risk management at Teesside University, said the potential for fires at scrapyards was high because of the use of hot cutting gear near combustible material.
He said: "Scrapyards do contain hazardous materials.
"And I think the question then has to be asked - do we want something that contains these hazards with the potential for causing problems to be right in the middle of our towns or do you decide that you need to site them outside on the outskirts?"
The Byker yard has been there for many years.
Kath Lawless, from Newcastle City Council, said: "If there was a new application then quite clearly we would be consulting local residents, seeking their views.
"The issue there is the scrapyard has existed since the 1970s I think. We can't add additional controls on to deal with potentially new hazards that have come to light now."
Watch more on this story on Inside Out, BBC One, Monday, 19:30 BST.