Freeman Hospital surgeon says child operations 'too stressful'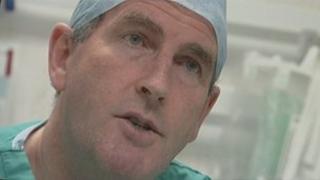 A review of children's heart units, that could see several close across the country, has an unlikely ally - a Newcastle surgeon who found his job so stressful he had to stop.
Leslie Hamilton, who led children's cardiac surgery at the Freeman Hospital, said it was keeping him awake at nights.
"The phone would go," he said. "My heart would be racing. I was having attacks of stress anxiety."
He said it was not a question of technical ability - he now operates on adults - but one of "psychological pressure".
Now consultant cardiac surgeon at the hospital's heart unit he believes the current review is urgently needed to stop similar pressures on other doctors - even if it means some centres could close, including his own.
He said: "We've been lurching from one potential crisis to another in terms of staffing."
A review of children's heart services - Safe and Sustainable - is looking at concentrating heart surgery in fewer, bigger centres with four surgeons each.
The argument is that this would provide greater opportunities for larger concentrations of doctors to become more skilled at difficult or rare procedures, with training and holiday easier to organise.
Mr Hamilton explained: "When you lift a knife or a pair of scissors and cut into someone it takes a lot of confidence to know you're doing the right thing.
"It's a really important part of having bigger centres, where you've got colleagues you know you can work with, if you get to a stage like that, you can work together for a while, build your confidence and restore the team."
'Feeling the pressure'
Mr Hamilton told BBC Inside Out that, in 2006, his stress became so great his colleagues began to notice.
"I got to the stage where I just couldn't do it anymore.
"I was fortunate that my colleagues recognised that I was feeling the pressure. They came to me and said you're not enjoying it anymore and let's see how we can change things.
"For me it was a question of confidence rather than operating ability because I've continued doing adults so it hasn't been a technical issue but it was just the whole psychological pressure."
The Freeman Hospital only has two surgeons in the children's heart unit.
It is a state of affairs Asif Hasan, consultant paediatric cardiac surgeon, calls a "mug's game".
He said: "I've done it for 17 years, constantly working. It is wearing and it plays havoc with personal and family life."
Mr Hamilton said it never becomes easy.
He said: "Every operation is different. You have to have to tailor it to the individual child.
"You spend a lot of time thinking about it beforehand. You'd be lying awake the night before. There's a lot more, I think, mental pressure on children's heart surgeons.
"You don't get into a comfortable phase, if you like, of doing the same operation regularly."
'Concerned and upset'
Although there have been calls for changes to the system for many years, concentrating expertise in fewer sites is unpopular with some of those centres earmarked for possible closure.
The Royal Brompton Hospital in London has taken plans for its closure to the High Court.
A recent NHS consultation about the proposals registered concerns that some families would have to travel further for surgery.
But Ashley Leybourne, whose daughter Scarlett was given an artificial heart at the Freeman unit, said she felt four surgeons on site would be much better than two.
She said: "I just keep thinking what happens if one of them is ill, then the other one's ill, what would they do?
"I just find it hard to believe that they have a life outside of here, because we see them so often."
In the next few months a committee of primary care trusts will decide on one of the options and closures could start in 2013.
Mr Hamilton said: "We've been talking about it for a long time. We need to go to bigger centres and everybody has accepted that in principle.
"Understandably if it's your own unit that will be affected people will be concerned and upset."
Even if the Freeman is among them its surgeons support the review.
Mr Hasan admitted: "I will be gutted, but we'll have to accept that decision."
Watch more on this on Inside Out, BBC One, Monday, 19:30 GMT.