Boy swept into sea at Cullercoats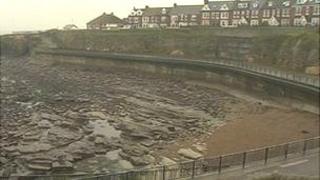 A 12-year-old boy was rescued after being swept into the sea off North Tyneside.
The youngster was playing with his brother and two friends on the promenade at Cullercoats on Wednesday.
A spokesman for Tynemouth Volunteer Life Brigade said the boy was rescued by a lifeboat crew from Cullercoats and airlifted to Wansbeck General Hospital.
He said the boy was not seriously injured, but did receive treatment for mild hypothermia.
The spokesman added: "The lifeboat was on scene very quickly.
"The boy was cared for by lifeboatmen and brigade members before being winched into an RAF rescue helicopter and taken to hospital.
"His brother and one of his friends, who had also been hit by a number of waves, were checked over by a paramedic, but were OK and released back into the care of their parents.
"The casualty was extremely fortunate to have escaped alive from his perilous position."