Veriplast in Durham to move production to Holland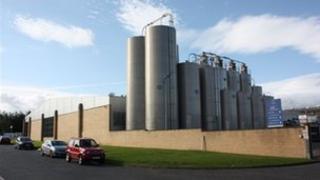 Staff at a County Durham factory face redundancy or relocation to Holland.
The Veriplast factory in Dragonville, which makes plastic food and drink packaging, is to close with the loss of 67 jobs.
The company is moving UK production to Holland and has sold the factory to a Danish company, Faerch Plast.
The company said those who do not want to move will be given redundancy payments, retraining and help finding employment.
Chris Hart, Veriplast UK's managing director, said: "Unfortunately the business of Veriplast UK Limited has been in steady decline over recent years and this is reflected in our financial performance."
Mr Hart said the the UK arm of the company had made losses of nearly £15m in the past five years.
He said: "A number of steps have been taken to try and address this combination of decreasing sales and increased costs.
"Unfortunately despite everyone's best efforts, these measures have not produced the kind of changes required and the move to Holland is essential if we are to maintain and grow our quality service to our customers."
Nick Halton, from the Unite union, said: "I'm disappointed, this is probably one of the last major manufacturing plants in Durham. It's just another sad day for manufacturing in Durham."
He added that none of his members had decided to take up the offer of work in Holland.
It is understood that some of the workers might be taken on by Faerch Plast.