Jarrow marchers to finish 330-mile trek to London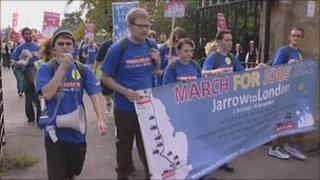 Protesters on a re-enactment of the 1936 Jarrow March for Jobs are due to complete their 330-mile trek to London.
Dozens of people have taken part in the Youth Fight for Jobs protest and are due to meet politicians during a rally in the capital.
They will also hand in a petition to 10 Downing Street calling for action on youth unemployment.
About 200 men took part in the 1936 march and handed a 12,000-name petition to the government asking for jobs.
Campaigners on the current march, which set off on 1 October, are also demanding the reintroduction of apprenticeships, the reinstatement of Education Maintenance Allowance (EMA), the reopening of axed youth services and action on tuition fees.
Spokeswoman Claire Laker Mansfield said: "Young people have shown that far from being lazy or scroungers, they want a future with decent jobs and education.
"The marchers have received huge support up and down the country. People have fed them, put them up and made it clear they back our demands.
'Very ironic'
"We think it is unfair that in the 21st Century, young people are facing long-term unemployment.
"There are almost a million young people out of work, and the jobs market is not getting any better."
Great-grandchildren of those who took part in the original march 75 years ago have also taken part.
One of the marchers, Paul Phillips, 22, from Newcastle, left the protest after a week after getting a job in a call centre.
Mr Phillips said: "This whole march for jobs was not just a march for jobs, but a march against the cuts and the current ConDem government.
"It was very close to my conscience and very close to what I believe in but I thought it would be very ironic if I'd turned down a job to go on a march for jobs."
The government has said it is taking action to tackle unemployment by creating 300,000 new apprenticeships and rolling out its Work Programme.