Alan Hull: memorial mooted for Lindisfarne lead singer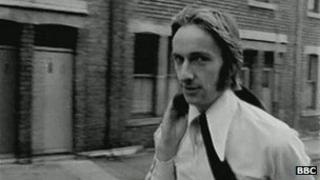 The former manager of the band Lindisfarne is calling for a memorial to lead singer Alan Hull in Newcastle.
Barry McKay, described Hull as down to earth, a defender of the "underprivileged, the misunderstood and the working class".
"He was a true son of Newcastle and he was proud of his city," said Mr McKay.
Now, 16 years after Hull's death and 40 years since Lindisfarne's famous Fog on the Tyne was released, there are renewed calls for a memorial to him.
Mr McKay initially approached the city council in 2006 to discuss the idea but said he was told there was little interest among councillors.
Council 'committed'
However, the council has had a change of heart - and a change of members - and is now prepared to consider any inexpensive ideas from local people.
Henri Murison, cabinet member for quality of life, said: "The city council is committed to finding a way to best recognise his achievement and many of the other achievements of the legends of this local area.
"Lindisfarne did [for] Newcastle what the Beatles did for Liverpool."
He added the council needed to make sure that it was "not seen to be wasting money".
Lindisfarne, hugely popular with local audiences in the 1970s, were one of the biggest bands to come out of Tyneside.
When Hull died, on 17 November, 1995, at the age of 50, an early day motion in the House of Commons - supported by MPs from all over the UK - noted that he "not only brought great pleasure to millions of music lovers but was a dedicated socialist who cared deeply for his fellow man".
The idea is supported by the band's former drummer, Ray Laidlaw.
He said: "Alan's real memorial is his music, that's never going to go.
"If you're talking about a physical memorial I'm not sure if a statue is the thing, I don't think Alan would be very keen on that, and you've got to look at it from his point of view. He would like the kudos but I think he'd much rather have a pub named after him or something like that, or a railway engine. Or a street perhaps."
Alan Hull's widow, Pat Hull, said: "My family and I would love to see Alan honoured with a permanent memorial by the City of Newcastle. He was such a wonderful ambassador to Newcastle."
'The best gig'
When Newcastle City Council originally decided against a memorial Barry McKay said he was disappointed.
But his belief that Alan Hull was inextricably linked with Tyneside has made him determined to see a memorial in the place he "put on the map".
Ray Laidlaw said: "[Alan] loved this region. Playing in Newcastle City Hall was always the best gig for him, no matter where else we played.
"And all of his art, his writing, his music... everything he did, all his lyrics were all filtered through his north-eastern sensibility."
He wishes the sentiment had come earlier.
He said: "He was a hugely talented songwriter and I think in some ways he never really got his just recognition when he was alive."