Jesting About: Search on for new comedy talent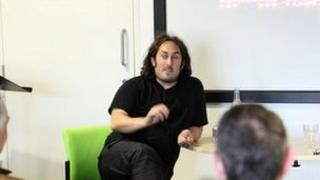 What do you get if you cross Ian La Frenais, Bob Mortimer and Ross Noble with a room full of writers and performers?
Comedy gold, that's what.
When Jesting About was launched last year, looking for new comedy talent, the organisers - the BBC and Northern Film & Media - were overwhelmed by the response.
More than 200 scripts flew in. From these 24 people across three strands were hand-picked to create work across multiple platforms: TV sitcom, radio and online.
Comedy writer Ian La Frenais helped the team who were writing a treatment for a sitcom.
They were a highly experienced lot, and used to being put through the grinder, so expected some tough love.
They got that in spades. They also came away with a firm endorsement of their work and a very funny script.
The online teams had a tough job. Create some comedy virals - short and sweet was the mantra for this.
Both Ross Noble and Vic Reeves ended up supporting and working alongside some of the online film makers and original works were commissioned by BBC Comedy online.
You can check it out at here where it sits alongside a raft of BBC comedy greats.
Days sitting round a table with all and sundry commenting on your work might not be your idea of fun. But the team writing a radio sketch show for BBC Newcastle and BBC Tees did just this.
A diverse bunch - from comedians Gavin Webster and John Scott to newcomers like Nitin Kundra and Will and Owen Cooper - were all supported.
The resultant scripts were recorded in front of a live studio audience and hard-boiled down into a half hour of radio magic.
Now we have Jesting About 2 - launched with the blessing of Peter Salmon, Director BBC North.
If you would like to spread your comedy wings you have until noon on 28 November.
Go here for more details, terms and conditions.
Go on then, what are you waiting for?