Darlington and Newcastle hotels create 200 new jobs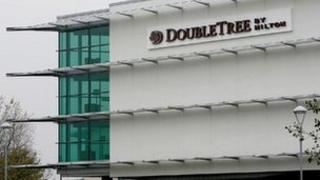 A Newcastle-based leisure company has created 200 new jobs in the North East after a multimillion-pound investment in a number of hotels.
The Cairn Hotel Group has spent £7.5m renovating Darlington's King's Head Hotel, creating 60 new jobs.
It has also opened DoubleTree by Hilton Newcastle International Airport Hotel, creating an additional 140 jobs.
The King's Head is being refurbished after a major fire in 2005 and is expected to fully reopen in 2012.
"The heavy investment we've made in hotels around the region means we are able to create a substantial amount of employment opportunities," A company spokesman said.
"And we are confident that there are likely to be more jobs created as other ventures move forward."
Recruitment for new staff is now under way, with jobs available for hotel managers, back office workers and bar and restaurant staff.
The company is also renovating the Scotch Corner Hotel on the junction of the A1 and the A66 near Darlington, which will create 60 additional jobs.