Alcan Northumberland: MP to meet Vince Cable over job losses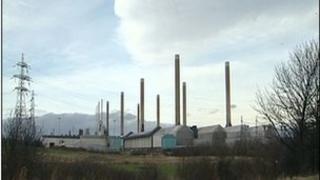 An MP is to meet Business Secretary Vince Cable in a bid to save more than 500 jobs at a Northumberland aluminium smelting plant.
Rio Tinto Alcan announced last week it was planning to close its Lynemouth factory with the loss of 515 jobs.
The company said it hoped to find a buyer for the plant's power station which employs 111 workers.
Wansbeck MP Ian Lavery said he wanted government assurances of financial help to find a buyer for the entire plant.
Rio Tinto Alcan is currently holding a 90-day consultation with workers at the plant, which opened in 1972.
The planned closure of the site has been described as a major blow for the area.
'Financial help'
Mr Lavery, A Labour MP who has already held talks with the company and union leaders, said: "The most important thing we need to do in these early stages is to try and save the plant rather than looking too far into the future about redeploying and retraining.
"We need to make sure we leave no stone unturned to see whether there is anyone who is willing to take the plant on and keep the jobs.
"It is all about trying to sustain the plant and the power station before we look at other options."
Rio Tinto Alcan chief executive Jacynth Cote said the smelting plant was no longer a "sustainable business" because of spiralling energy costs.
But she said she hoped a buyer could be found for the power station.