Sting to be Sage Gateshead Arches project patron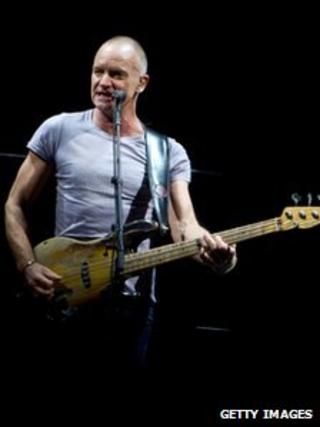 Tyneside-born musician Sting has been named as patron of a £1.5m project by The Sage Gateshead to create a training base for young people.
The scheme aims to transform the arches behind the venue into a purpose-built centre for disadvantaged and vulnerable young people.
The project is currently based in temporary buildings and demand means the space is being outgrown.
Wallsend-born Sting said it was an important project.
He said: "Having grown up on Tyneside, I'm pleased to support this appeal for The Arches project and The Sage Gateshead's ongoing commitment to creating opportunities for today's young musicians and music lovers in the North East."
'Great friend'
The Sage's Foundation Learning Programme gives young people aged 16 to 18 the chance to build social and employability skills with an urban training programme.
As well as using the temporary buildings, some sessions are held in the building's Music Education Centre.
The purpose-built centre would include classroom, production, presentation and rehearsal spaces.
Sage Gateshead chairman Lord Puttnam of Queensgate said: "Sting has always been a great friend to this organisation so for him to cement his support by becoming patron of this hugely important project is a milestone for The Sage Gateshead and greatly appreciated by all the people connected to it."
Sage General Director Anthony Sargent said the project would continue an important area of his work.
He said: "The greater the region's economic challenges become, the more important is the work we're doing with these young people - many of whom for a variety of reasons currently feel cut off from much of society. "