Cathedral Church of St Nicholas receives £250k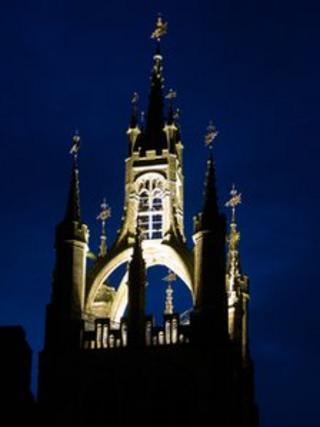 The Cathedral Church of St Nicholas in Newcastle has received a confirmed grant of £250,000 to help open up the history of the cathedral.
The money, from the Heritage Lottery Fund (HLF), alongside £400,000 raised by the cathedral, will help conserve the cathedral's important monuments.
The money will also help a project to enable the cathedral's stories to be told properly for the first time.
The Dean, the Very Reverend Christopher Dalliston, called it "fantastic news."
"This will allow us to move ahead with the remodelling and bringing the monuments of the cathedral to light in all their glory.
"The project will involve telling the story behind the monuments and bringing them to life using the latest new media technologies.
"It is very exciting. In these times of financial uncertainty, this helps provide some much needed light in the darkness allowing the community to have something positive to focus on."
Celebrating achievements
The cathedral houses one of the finest collections of civic memorials in the country, mostly dating from the 17th and 18th Centuries.
The memorials celebrate the lives and achievements of men and women, soldiers and sailors, academics and artists each of whom had an impact on the city and the region.
As part of the conservation, new lighting will be installed highlighting the cathedral's history.
The church tower was built in the 15th Century and was originally used as a beacon for travellers from the North for many years.
It was also used as a lighthouse beacon to aid sailors navigating their way along the nearby River Tyne.