Homeless at Christmas: Tyneside' Cyrenians give helping hand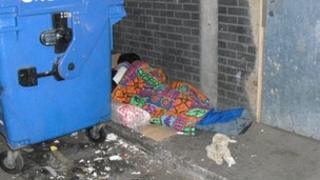 "It's the worst thing ever. It's really, really hard at Christmas," says John.
The 39-year-old has been homeless for much of the past two decades but will be spending this Christmas in the warmth of Elliott House, emergency accommodation run by the homelessness charity, The Tyneside Cyrenians.
In previous years he tolerated the festive season as best he could in sheds, allotments, derelict caravans, bus shelters and secluded corners of Newcastle City Centre.
He says: "It's going to be freezing when you're on the streets at Christmas. People say get wrapped up as much as you can but, you know, when it's snowing or raining you get wet and it's really hard.
"I've tried to chuck myself off the Tyne Bridge, near Christmas, when it was snowing. I just didn't want that day to come."
The Cyrenians support homeless people, or those at risk, from Northumberland to Middlesbrough, via North and South Tyneside, Newcastle and Gateshead.
The charity's chief executive, Stephen Bell, says: "Christmas is a notoriously bad time because people realise what they've lost... what mistakes they've made.
"They may or may not be in touch with their families, they may or may not be in touch with their children, and it's a really sombre time for people."
'Let yourself go'
The Cyrenians' accommodation has decorations and a tree and they make sure everyone they deal with gets a card and a small - usually donated and useful - present.
There is a plentiful supply of the traditional Christmas standby - toiletries - since the charity is sent all the shower gels and shampoos confiscated at the security check at Newcastle Airport.
Mr Bell says: "You'd be surprised at the amount that we still get even though the security checks have been in place for about five years. We still get mountains of stuff coming through."
But, for those still on the streets, the festive picture is different.
John would sometimes go to a hostel or soup kitchen for a Christmas dinner but mostly he liked to keep himself to himself on the streets, to avoid the potential for disagreements and falling out.
He used to get his bottles of alcohol and hide.
Although he thinks there is more sympathy for homeless people at this time of year, it does not often translate into a place to stay.
He says no-one wants a homeless person in their home: "On the streets you smell quite a bit. You can get washed and that but, on the streets, the smell soon comes back.
"The day you put your clean clothes on, you're dirty that day, again, because you're on the streets... and sometimes you've had enough and you just let yourself go."
Stephen Bell agrees there is more concern for homeless people at Christmas but thinks attempts to help can often be misguided.
He wishes people, feeling festively sympathetic, would not give out sleeping bags.
"There's no point in giving somebody a sleeping bag," he says. "It gets wet.
"And once it gets wet people can't then use it again. I know people feel as if they're doing good, but actually it's not.
"It's like begging. Never give money to beggars. You've got to get people engaged within services."
The charity does receive more donations at Christmas, for which they are grateful, but seasonal interest is partly the reason for their current campaign slogan: "A homeless person is not just for Christmas".
For John, now volunteering for the Cyrenians and hopeful of a normal life, homelessness was year round, on and off, for 18 years.
He says: "I remember seeing programmes when I was younger, when my mam was still alive, seeing homeless people. I thought that I would never be homeless, but then one day you are."