Donating winter coats to homeless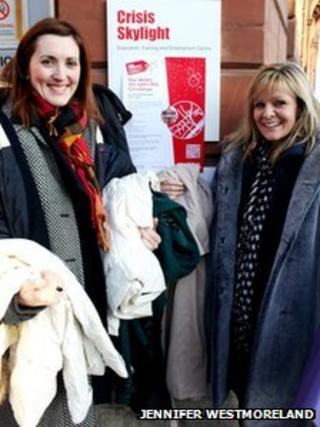 Five volunteers from Tyneside are raising awareness of donating clothing for the homeless.
The group came up with the idea of a winter coat amnesty that encourages people to donate their old coats so that they can be distributed to homeless people this winter.
Andy Brown, Caroline O'Doherty, Claire Paczko, Antonio Spinozzi and Sam Wass, who also work full-time, are taking time out of their busy schedules to help those in need.
Crisis, an education, training and employment centre for the homeless, will give the coats out on Christmas Day and Boxing Day.
The group is also looking for donations of adult gloves, hats, scarfs, jumpers and socks.
Olympic swimmer Chris Cook and local TV presenters Kim Inglis and BBC Look North's Katie Gornall have all donated their old coats at the drop off points in Newcastle and Whitley Bay.
Find out where the local drop off points are on the official Facebook page.