Revamp for Tyne and Wear Metro ticket machines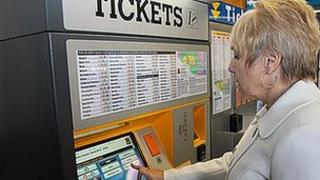 Tyne and Wear Metro passengers can now use notes and credit cards to buy train tickets at stations for the first time in the Metro's 30-year history.
Owner Nexus is spending £25m on upgrading machines, which since the network opened in 1980, have only been able to accept coins.
The first of 225 replacement machines have been installed at stations in North and South Tyneside.
The work is part of a £385m revamp of the network over the next 11 years.
The new machines can accept credit and debit card payment and notes, as well as coins. They are also enabled to accept payments from a soon-to-be-launched smartcard system.
Director general of Nexus, Bernard Garner, said: "The main benefit is that the new machines accept credit and debit card payments and bank notes.
"The old ticket machines didn't do so and this has been a source of frustration for Metro users.
The new machines have touch-screen technology, which are available in six different languages.
More than 120 staff have been trained to help passengers use the new machines as more are installed at the network's 60 stations over the coming 12 months.