Raoul Moat accomplice Karl Ness loses bid to reduce sentence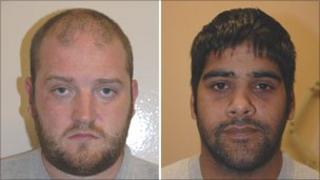 One of two men who helped gunman Raoul Moat during his shotgun rampage has lost a Court of Appeal bid to reduce his sentence.
Karl Ness was jailed for life in March and ordered to serve a minimum of 40 years before he could apply for parole.
He and Qhuram Awan, who was also jailed for life, were convicted of helping Moat, who killed one man, shot his ex-girlfriend and blinded a policeman.
Three judges dismissed Ness's application at a hearing in London.
Announcing the decision, Chief Justice Lord Judge, sitting with Mr Justice Sweeney and Mr Justice Singh said Ness had taken part in an "appalling catalogue of crime".
Moat shot his former girlfriend Samantha Stobbart, 22, and killed her new boyfriend Chris Brown, 29, in Birtley, in July 2010.
The next day he shot and blinded traffic officer Pc David Rathband, leaving him for dead on a roundabout above the A1.
'Exceptional' sentence
Ness, 26, from Dudley, North Tyneside, helped source a gun while Moat was in prison, spied on Ms Stobbart for him and helped research the identity of her new lover on the internet.
He was convicted of murdering Mr Brown despite not pulling the trigger.
Ness and Awan, 23, of Blyth, Northumberland, were arrested by officers who used a stun grenade to disorientate them.
Ness claimed his sentence was "exceptional".
Lord Judge said: "It clearly is exceptional and we recognise that. The reality is that this was a case of exceptionally grave crime."
He said the murder of Mr Brown was a "particularly serious" offence, adding: "This man was gunned down and when the first shot did not kill him he was executed."
The said the injuries caused to Pc Rathband had left him "within a thread of death".
A minimum term of 40 years was "rightly intended" to reflect the "overall criminality" Ness had been found guilty of by the jury, said the judge.
The court had reflected on the submissions made on his behalf, "but in the end we have come to the conclusion that there is nothing about this sentence, and in particular the minimum term assessed by the judge, with which it is even arguable that this court should interfere".