Sunderland pensioner honoured for 40 years of volunteering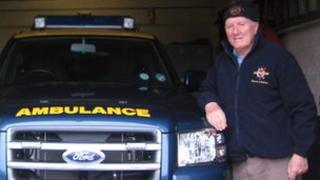 A 72-year-old Sunderland coast and river rescue volunteer has been honoured for 40 years service.
Fred Roberts is still working for the Sunderland Volunteer Life Brigade who help the Coastguard in search and rescue call-outs.
Mr Roberts got involved after being invited to see what the team did and wanted to be a part of it.
After 40 years of volunteering he looks after the kit and watch house and makes sure the rest of the team are up to speed.
The pensioner still sometimes goes out with the team on rescue missions but does a lot of the fundraising work.
'Active role'
One call-out that sticks in Mr Roberts' memory was a nine-hour search that took place in Seaham.
Mr Roberts said: "We were called out about 9 o'clock one Wednesday night to go down to Seaham. We were out all night.
"It was about six in the morning when I got home, it was a successful search and we found him."
Sunderland Volunteer Life Brigade chairman, Graham Hall, said: "If it wasn't for Fred's efforts and his wife [Rose] who has been here for 20 years as a secretary, the Volunteer Life Brigade wouldn't survive.
"They've taken it through some very lean times and they've kept it going.
"Even though Fred, shall we say, is in the twilight of his rescuing career, he's still got an active role to play."