Northumberland teenager wins top photography award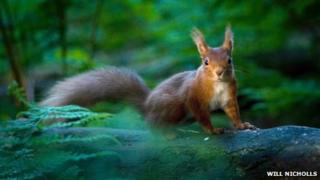 A Northumberland teenager has beaten more than 8,000 youngsters to win the RSPCA Young Photographer Awards.
Will Nicholls, 16, from Haydon Bridge, won the 16-18-year-olds category and the overall competition.
The winning snapshot of a red woodland squirrel was taken in Kielder Forest close to his home.
He said "Initially I wasn't too impressed with the photo, but looking at it now I can see why it's special.
"It was completely unexpected to get anywhere, never mind win the overall competition, I didn't expect it. I'm shell-shocked."
The Royal Grammar School (RGS) student has been a keen photographer since 2007 and hopes to become a documentary maker.
'Intimate portrait'
He said: "It's something I've always been interested in, I want to get into natural history documentaries when I'm older... I want to be the next David Attenborough."
Also a keen traveller, he hopes to combine his hobby of photography into his future job.
He has already trekked in Ethiopia in 2009 and next year he is going on an expedition to the Borneo jungle for a month of conservation work.
The keen photographer won a three-day wildlife photography break with Danny Green and a camera kit.
Mr Green, who was judging the competition, said: "This is a very intimate portrait of an elusive creature - a truly deserving winner.
"The way the light is shining on the squirrel in this picture makes you feel as if it is you, the viewer, who has happened across it.
"It is very personal, giving you the impression that you are actually there."
The teenager, who travelled to the ceremony with his mum and dad, was presented with his award at the Tower of London on Friday.
He said: "They're amazed as well. My mum gasped when the photo came up, it was a massive shock."