Soldier Andrew Wardle honoured for child rescue quits Army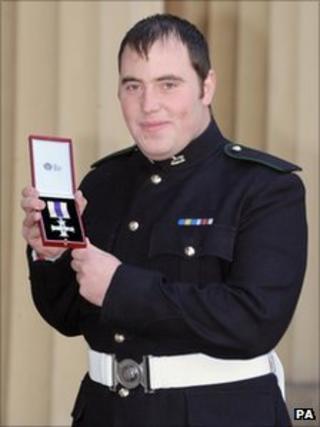 He is a hero of the war in Afghanistan and has received one of the UK's top military honours.
But now L/Cpl Andrew Wardle is leaving the Army on medical grounds - after suffering nightmares and stress on his return from the battlefield.
Less than a year ago, L/Cpl Wardle was on one of the biggest highs of his life.
He was at Buckingham Palace to receive one of the Army's highest honours, the Military Cross, after saving the life of a wounded child in Afghanistan.
L/Cpl Wardle, of the 2nd Battalion the Yorkshire Regiment, ran through enemy fire to rescue the five-year-old boy who had been caught in crossfire.
Today the 23-year-old is facing an uncertain future after being discharged from the Army suffering from stress.
L/Cpl Wardle ran 50m (160ft) across open ground to rescue the boy, who had been shot in the back after he wandered into the middle of a firefight between British and Afghan troops and insurgents, in Helmand, in January 2010.
'Trying to cope'
An Army report into the soldier's actions said: "He showed selfless courage and compassion to rescue and care for a wounded Afghan child."
But L/Cpl Wardle said he had since developed post traumatic stress disorder.
He will leave the Army in January.
He said: "Mainly I've been suffering from nightmares and stress trying to cope with incidents which happened out in Afghanistan.
"A lot of them I blame myself for, even though I know it wasn't my fault.
"It is just the way I am and it was enough to get me medically discharged from the Army."
L/Cpl Wardle has now enrolled at Finchale Training College in Durham City which specialises in helping people retrain including former members of the armed forces and prison officers.
A spokesman for the college said: "We help deal with a whole raft of issues including anxiety, stress, depression, financial issues and post traumatic stress.
"We help people deal with the barriers they face."
L/Cpl Wardle received treatment for stress at the Personnel Recovery and Assessment Centre, at Catterick Garrison.
It was funded by Help for Heroes and the Royal British Legion.
The RBL also runs a helpline called Legionline to advise former and current servicemen and women.
A spokeswoman said: "Our help covers a huge range of issues, including counselling, job retraining, skills assessment, getting the right pensions and benefits and nursing care.
"The Legion has close links to many other charities, organisations and trusts, enabling it to draw on the best resources and expertise and to refer people to those best equipped to help them.
"The Legion will be needed for as long as people continue to be affected by conflict."
L/Cpl Wardle added: "With me being in the infantry I don't have a trade for civilian life.
But Finchale College should get me started on a trade such as an electrician and help me get a job.
"But it is as if I'm just starting again leaving school."